Update v2.6 – Photo-Motion Software
Every day we work hard with a team of creative makers, designers and developers on Photo-Motion. We develop new functionalities for our software and make it even faster and more stable. In this blog post you can read about what we have been working on lately and which updates you can expect soon.
Apply camera offset afterwards
Improved upload process
Coming soon: HiSpeed Photo-Motion
New spinner design
Increased server capacity
BETA: Automatic (Centered) Crop
BETA: Photo optimization
Photo-Motion Manager
Apply camera offset afterwards
Many customers want a specific side of the car or product to be the first in the photo serie. This can be accomplished with the camera offset setting – so that the turntable first turns to the correct side – before shooting. With this update we have made this process smarter, saving time. It is no longer necessary for the turntable to turn first, because our software automatically ensures that the correct photo is displayed first in the series after shooting.
Improved upload process
Uploading photos to Photo-Motion Online has been improved. With slower internet connections it sometimes happened that the upload process was interrupted, as a result of which photo series in Photo-Motion Online were not complete and 360-spinners could not be made. After the update, Photo-Motion Manager will ensure that missing photos are now uploaded automatically.
Coming soon: HiSpeed Photo-Motion
To make a much bigger step in speeding up the photo process, there is one bottleneck: stopping the turntable. For every photo position, the turntable now has to slow down and must get to speed again. What if we no longer have to stop while shooting?
That is possible with HiSpeed ​​Photo-Motion. Our developers are now working hard to develop this functionality, so that you can shoot even faster, without compromising on photo quality. We will keep you informed!
Photo-Motion Online
New spinner design
You may have already noticed: the Photo-Motion Spinner has a new look! Our spinner is designed so that it is easy to integrate into your website, both on desktop and on mobile. This also applies to technology and design.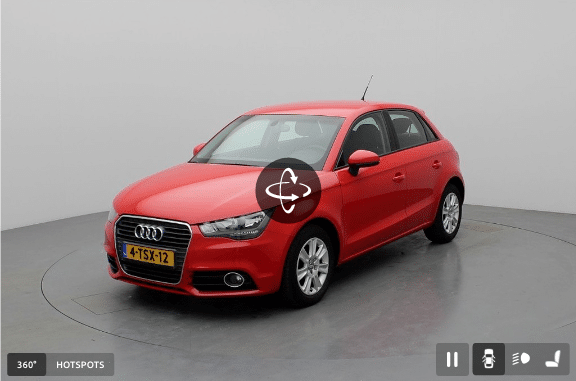 Increased server capacity
More and more companies know how to find us as the partner in the field of photo -studio and -presentation solutions in the Automotive sector. This means that the number of users of our software is also increasing. Stability and reliability are of course extremely important for you and therefore also for us. That is why we have expanded the capacity of our server, so that you can always continue to accelerate.
Trash Bin
With the Trash Bin you have even more control over your cloud environment. If you delete a productfolder or individual pictures, they will stay in the trash bin for 30 days, before permanently erased. Also, you now have the option to restore deleted files easily.
What can you expect?
You have already read above that we are working hard on HiSpeed ​​Photo-Motion. There are two more things that we are excited about that will be available soon:
BETA: Automatic (Centered) Crop
You already have the option in Photo-Motion Manager to automatically crop photo series. For a small car, the photo needs to be zoomed in a little more than for a large car.
If you use this function, you have also seen that the car is therefore not always centered on the photo. This simply has to do with the fact that the car rotates at a fixed point and so in one photo sticks out more to the left and in the other photo a bit more to the right.
We have made a solution for this. Our software now automatically recognizes the size of the car based on Machine Learning and then automatically cuts away all unnecessary space. You can of course set the margin around the car yourself, so that the photos are always perfectly on the internet.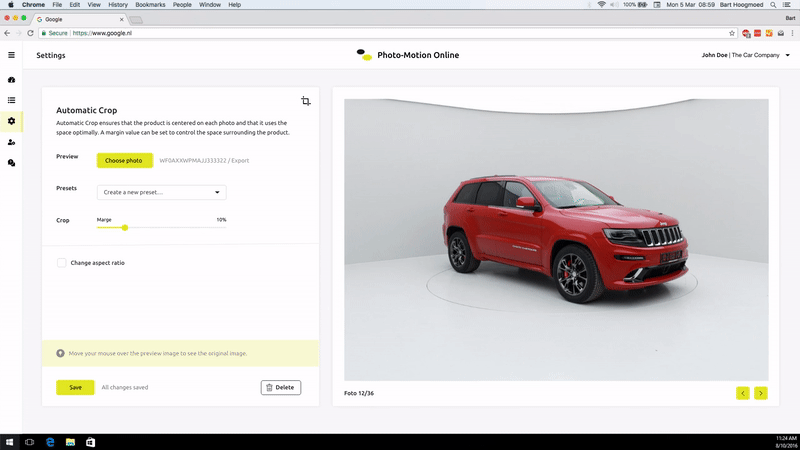 BETA: Photo optimization
We are also working hard on Photo optimization options in Photo-Motion Online. You can brighten a photo easily and automatically, reduce shadows, add color, sharpen the photo and more.
Automatic cropping and photo optimization are not yet complete and therefore in Beta. Would you like to try out these functionalities? Send an email to info@photo-motion.com. We would love to hear what you think and what we can improve! Since the functionalities are still in Beta and can therefore still contain some errors, we would advise you not to use these for critical processes.
Do you have questions, do you miss certain functionality or do you see points of improvement in Photo-Motion Manager? Please send an email to support@photo-motion.com. We are eager to learn from our users!